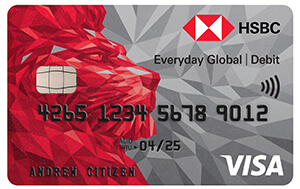 An award-winning everyday account, for here and overseas
Enjoy outstanding value with the all-in-one HSBC Everyday Global Account, that's ideal for:
Everyday Banking – pay bills and deposit your salary

Unlock Everyday Extras6 – when you deposit $2,000 or more each month

Travel – pay in the local currency2 with no hidden fees and enjoy the security of Visa zero liability3 against unauthorised purchases

Foreign currency – buy, hold and spend in up to 10 currencies (including AUD)
Fees:
Save on everyday spend with no hidden fees here, overseas or online in up to 10 currencies.
$0 Monthly account fee1
$0 Transaction fees
$0 ATM fees5 charged by HSBC Australia
Everyday Extras
Deposit $2,000 or more into your Everyday Global Account each month to unlock Everyday Extras6


$100 Bonus7 for new HSBC customers

$100 Bonus when you deposit $2,000 or more each month for 3 consecutive months, within 6 months of opening your Everyday Global Account.


Earn 2% cashback8 on tap and pay under $100

Earn up to $50 cashback8 each month on eligible purchases when you tap and pay with Visa payWave, Google PayTM or Apple Pay4 under $100.


Bonus interest9 on savings

Earn 0.4% p.a. bonus interest on the ongoing variable rate on your HSBC Serious Saver Account. The ongoing variable rate applies after the competitive 4 month introductory rate.

Available currencies
In addition to Australian dollars, you have the choice to buy, hold, save and spend in the following currencies.
AUD, USD, GBP, EUR, HKD, CAD, JPY, NZD, SGD, CNY (currency restrictions apply to CNY)
Applying is easy
Complete your application online today.

Terms & Conditions
Other banking services fees and charges may apply.

Where a currency is not one of the listed currencies available with the Everyday Global Account or is in a restricted currency (such as Chinese Renminbi (CNY), the money will be deducted from the AUD account. Any ATM withdrawals will be automatically converted into the local currency at the Visa exchange rate.

Visa Zero Liability subject to investigation of unauthorised transaction.
Terms and conditions apply to the use of Apple Pay and Google Pay.
Non-HSBC branded ATMs may also charge an ATM operator fee for withdrawals or balance enquiries at their ATMs.
HSBC Everyday Extras is a feature of the HSBC Everyday Global Account. You will be eligible for Everyday Extras if you deposit at least AUD2,000 into your HSBC Everyday Global Account before the last working day of each calendar month. For more information refer to the Transaction and Savings Accounts Terms.

The $100 bonus is paid to new HSBC customers who open an HSBC Everyday Global Account from 12:00am AEDT 1 August 2019 to 11:59pm AEDT 31 March 2021 and deposit AUD 2,000 or more per month for three consecutive months within six months of opening the account. Refer to the Cash Bonus Terms and Conditions (PDF,228 KB).

You will earn 2% cashback on eligible purchases under $100 when you tap and pay with Visa payWave, Apple Pay or Google Pay™. This will be paid into your Everyday Global Account with the maximum cashback you can earn being $50 per calendar month. Eligible purchases must be made in Australian Dollars and where the merchant or its financial institution/ payment processor is registered in Australia. Purchases which are excluded for cashback include business, gambling and government transactions (including public transport). For the full exclusion list, refer to the Transaction and Savings Account Terms.

If you have an Everyday Global Account, we'll give you 0.4% p.a. in addition to the ongoing variable rate for your Serious Saver Account. This is on the condition that you deposit at least AUD 2,000 into your Everyday Global Account before the last working day of each calendar month. Bonus interest is calculated daily, starting the working day after you deposit AUD 2,000 into your Everyday Global Account and paid on the 28th day of each calendar month. The bonus 0.4% p.a. is not paid on balances over AUD 1,000,000.
All in branch cash transactions are restricted to AUD, USD and HKD. USD and HKD currency note transactions are only available at selected HSBC Branches. For USD and HKD deposits, these must be notes only and in multiples of 10. Cash transactions in USD and HKD are subject to cash handling fees. Please refer to the Personal Banking Booklet for more information.
The HSBC Everyday Global Account was awarded the Canstar 5-Star Rating for Outstanding Value – Travel Debit Card in September 2018/2019/2020 and Outstanding Value – Transaction Account April/Oct 2020, the Finder Award for 'Best Transaction Account' September 2020 and the Canstar Bank of the Year - Everyday Banking 2020 award.

This advertisement provides general advice only and doesn't take into account your objectives, financial situation or needs. Consider the Transaction and Savings Accounts Terms (PDF, 1.10 MB) and Financial Services Guide (PDF, 906 KB) For HSBC accounts before acquiring this product, available by calling 1300 308 008, at your local branch or www.hsbc.com.au. Issued by HSBC Bank Australia Limited ABN 48 006 434 162. AFSL 232595.