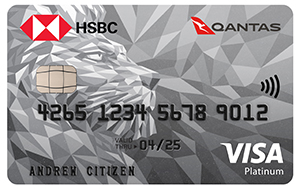 The HSBC Platinum Qantas Credit Card
Available to new approved customers who apply by 31 December 2019.
Earn with everyday spending

Earn 1 Qantas point per dollar spent, up to $2,500 every month. Every $1 spent thereafter will earn 0.5 Qantas Points. This is capped at 7,500 per statement period.3

Balance Transfer

0% p.a. Balance Transfer for 12 months from non-HSBC credit cards on application.2

Our HSBC Platinum Qantas Credit Card is available for $0 Annual Fee in the first year (saving you $79)1
Features & Benefits:
Complimentary International Travel Insurance
Complimentary Qantas Frequent Flyer Membership
Ways to open

Online

As a new HSBC card customer I will also get:
HSBC Instant Savings
Instant Savings are now at your fingertips with a free membership to Frequent Values™ by Entertainment Publications. You can enjoy more than 4,500 exciting offers at participating outlets across Australia and New Zealand every time you use your credit card.

Complimentary insurances

Our cards come with a range of insurances for peace of mind. Our Platinum Qantas Credit Card comes with Domestic Travel Insurance, Purchase Protection, Extended Warranty, Guaranteed Pricing Scheme and International Travel Insurance4.

My Card Control

To let you choose when and how to use your card. Contactless, online, over the phone and international transactions can be switched on and off to meet your needs.

Who can apply

Must be over 18 and be an Australian resident

Earn at least $40,000 p.a.
Have a good credit rating

Information needed

Identification
Address details
Income and employment

What to expect

Apply securely online in 10 minutes
Get an instant response in 60 seconds
Upload extra documentation

Apply for a HSBC Platinum Qantas Credit Card
Ready to Apply
Complete your application online today.

Terms & Conditions
Expanded press enter to collapse
Collapsed press enter to expand
Credit provided by HSBC Bank Australia Limited ABN 48 006 434 162 AFSL/Australian Credit Licence 232595. Offers available to new, approved HSBC credit cardholders who apply by 31 December 2019. Fees, charges, terms, conditions and HSBC lending criteria apply to all credit cards issued by HSBC. Visit hsbc.com.au or call 1300 308 008.
HSBC Instant Savings terms and conditions apply. Visit hsbc.com.au/credit-cards/terms/for full details.

1$79 annual fee will be waived in the first year, and will be charged annually from the anniversary of the account opening date in each subsequent year.

2To be eligible for the introductory balance transfer rate, the balance transfer request must be made when applying for the HSBC Platinum Qantas Credit Card.Your total balance transfers must not exceed 90% of your approved credit limit. The interest rate on the balance transfer applies for 12 months and must be from non-HSBC credit cards. After this period, any balance outstanding from the balance transfer will accrue interest at the cash advance rate current at that time. HSBC will allocate payments received from you to pay off the portion of your balance attracting the highest interest rate first and subsequently to portions of your balance attracting lower interest rates. This may mean applying any and all payments made to your HSBC Platinum Qantas Credit Card account to pay off other transactions such as purchases and cash advances before any balance transfer amount.

3You must be a member of the Qantas Frequent Flyer program and provide your valid membership number to HSBC in order to earn and redeem points. Membership and points are subject to the terms and conditions of the Qantas Frequent Flyer program available at qantas.com/terms. A joining fee usually applies, however HSBC has arranged for this to be waived for HSBC credit card customers opting in to HSBC Qantas Rewards who are not already Qantas Frequent Flyer members – join by visiting qantas.com/hsbcjoin.

4Insurance policies are issued by AGA Assistance Australia Pty Ltd ABN 52 097 227 177(AFSL No. 245631) trading as Allianz Global Assistance (under a binder from Allianz Australia Insurance Limited ABN 15 000 122 850 (AFSL No. 124708) and HSBC Bank Australia Limited (ABN 48 006 434 162) (AFSL 232595). Terms and conditions, limits and exclusions apply and available at www.hsbc.com.au. An excess may apply. HSBC does not issue these insurances and does not receive commissions on these policies or guarantee any benefits under this cover. HSBC has entered into master policies for the benefit of cardholders. The cover provided is at no additional cost to cardholders.