Online Share Trading Advanced Charting
In addition to the quality charts provided through webIRESS, enjoy automatic access to the latest professional technical analysis charting software.
This dynamic, responsive software makes it easier for you to identify potential investment and trading opportunities. Manipulate the displayed data via panning and zooming. Draw on or makes notes on the charts and then save them for later.
Make the most of:
Advanced Charting
Market Map
Conditional Orders and Multi Order Pad
Tax Reporting
Stock filter tools
Market Map
With Market Map, you can create your own visual representation of performance:
create a Market Map for a complete market overview
define by market, index, sector, your watchscreen, or portfolio
You can then and bookmark or share to any site or blog.
Conditional Orders
Make the most of potential opportunities by creating pre-determined orders based on Australian Securities Exchange (ASX) security or index movement with your choice of specified limit price, percentage trail, cross stock, volume or time-based triggers.


Multiple Order Pad
Looking for speed to market and not having to duplicate orders? In one click, Multiple Order Pad lets you replicate an order to buy or sell a stock in your portfolio across multiple accounts.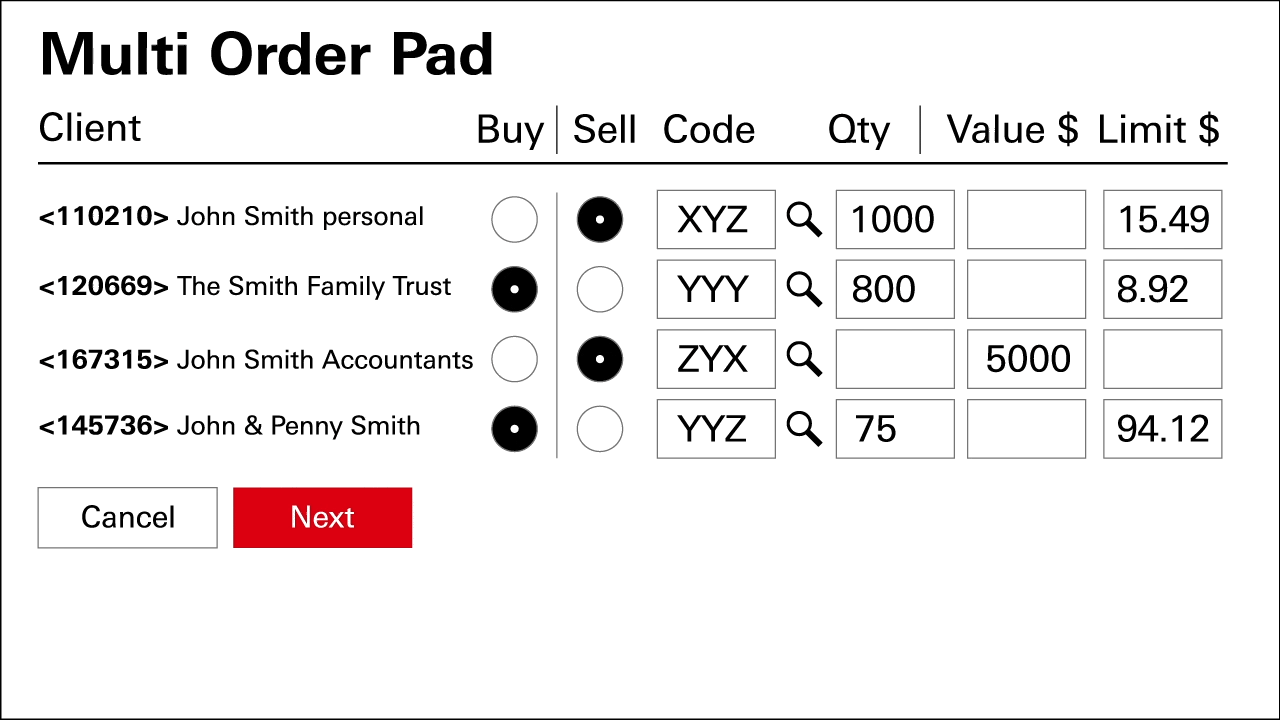 End of Financial Year Tax reporting
Our simplified reporting is designed to make the EOFY easier for you. With one simple report, receive all the information you need, including:
Your account summary
Holdings valuation
Cash account summary
Transaction summary
Estimated dividend summary
Unusual Volume

This tool lets you keep track of spikes in volume for a specific stock. List stocks with unusual trading volume and gain a better understanding of the flow of trades in a particular stock.

Changes in substantial holdings

Access a complete list of major shareholder changes, all in one place, and in real time. You can search by stock code or date or view substantial holdings for all security codes on the current day.

Directors' trading activities

View directors' trading activities, list directors' trading in their own company, access ASX announcements and news about directors' interest, and search by stock code and date.

Visual depth chart

This easy to read chart allows you to gauge market depth and detail, and switch between visual and tabular format.

List of stocks at their 52 week high

A helpful tool to let you or low helps you identify stocks at the extremity of their price range, and study stock movements in real time.
Apply for an HSBC Online Share Trading Account
Ready to Apply
Its quick and simple to open an HSBC Online Share Trading account

Applying in a company, trust or SMSF entity?

Already an Online Share Trading member?
If you are an HSBC Online Share Trading member, you can log on now.

You might be interested in
Terms & Conditions
Applicants must be Australian residents for taxation purposes and must be 18 years or over.
View HSBC Online Share Trading fees and charges.
HSBC Online Share Trading is a service provided by Third Party Platform Pty Ltd ("TPP") ABN 74 121 227 905 AFSL No. 314341, a wholly owned but non-guaranteed subsidiary of Bell Financial Group Ltd (ASX:BFG), at the request of HSBC Bank Australia Limited ABN 48 006 434 162 AFSL 232595 ("HSBC"). TPP is a Participant of the ASX Limited Group and a Trading Participant of Chi-X. For a copy of the terms and conditions relating to the HSBC Online Share Trading service and the Financial Services Guide for TPP, or if you would like one to be sent to you contact us on 1300 782 811 or + 613 8663 2766. For HSBC Online Share Trading account fees and charges. Applicants must be Australian residents for taxation purposes and must be 18 years of age or over. Neither TPP nor HSBC are representatives of each other. To the extent permitted by law, HSBC will not guarantee or otherwise support TPP's obligations under the contracts or agreements connected with the HSBC Online Share Trading service. HSBC receives a commission from TPP for each client referral provided to TPP. TPP and HSBC do not provide investment advice in relation to HSBC Online Share Trading. You should consider your own financial situation, particular needs and investment objectives before acting on any of the information available on this website. HSBC does not guarantee or accept liability for any products offered by TPP.